Pest Control
You Can Trust.
Serving New Mexico since 1945.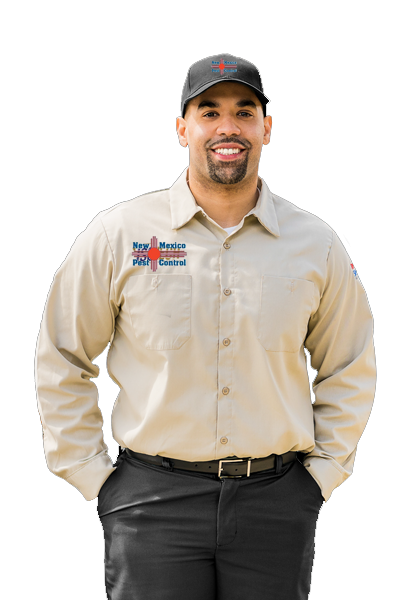 Experienced Exterminators in Santa Fe
Serving Albuquerque and Taos
Here in New Mexico, home and business owners alike are used to dealing with pest problems throughout the year. To protect you, your family, and your property from an infestation, it's important to work with a team of experienced pest control experts. That's where the exterminators at New Mexico Pest Control come in. Our pest control technicians are industry leaders and are committed to providing quick, reliable, and effective services to keep you pest-free.
Be pest-free, year-round
Residential Pest Control
Our expertise is in pest control, and our mission is simple: to defend your home and family! At New Mexico Pest Control, our goal is to protect your home from uninvited insects and animals. To achieve this, we recommend working with our exterminators on a regular basis to receive inspections, treatments, and more to prevent infestations before they begin.
We'll implement our pest control services at your convenience, creating a pest-free environment for your family year-round. We staff the best pest removal exterminators in the New Mexico area, who will work with you to design a unique and effective pest control plan for your property. Our guarantee is to provide you with pest-free living.
Say Goodbye To Pests. Get Started Today!
Pest-proof your business
Commercial Pest Control
New Mexico Pest Control is a trusted and local pest control provider for all types of industries. We take pride in providing effective treatment solutions for business owners, and our mission is to ensure protection for your employees, customers, and property. Whether you own a restaurant or hotel, a pest-free environment is essential. You can't wait for the problem to arise; regular pest control services are the only way to prevent infestations and keep your reputation in tact.
New Mexico Pest Control offers numerous commercial pest removal services to our commercial clientele. Whether it's bed bugs in a hotel, cockroaches in a restaurant, flies in a healthcare facility, or mice in a new office building, our exterminators have a custom commercial pest control service solution to meet individual commercial needs. No matter what industry you work in, our exterminators will keep you—and your reputation—safe.
Nice people, took care of my ant problem. Also considerate of children, pets, and surrounding wildlife. Will definitely use them again!
- Holly K.
Very professional, knowledgeable and courteous. I would have no hesitation recommending them to any of my friends or family!
- Reuben M.
Reuben is polite, friendly, professional and efficient. Any customer would be glad to have him as their exterminator.
- Kevin W.
Refer a Friend and Save $25
Off Your Next Regular Service Visit
Pest issues? We can help.
Pest Control & Exterminators in Santa Fe and Albuquerque NM
Santa Fe NM | Albuquerque NM | Espanola NM | Los Alamos NM
Las Vegas NM | Chama NM | Questa NM